Skip to Content
Top Attractions in St. Augustine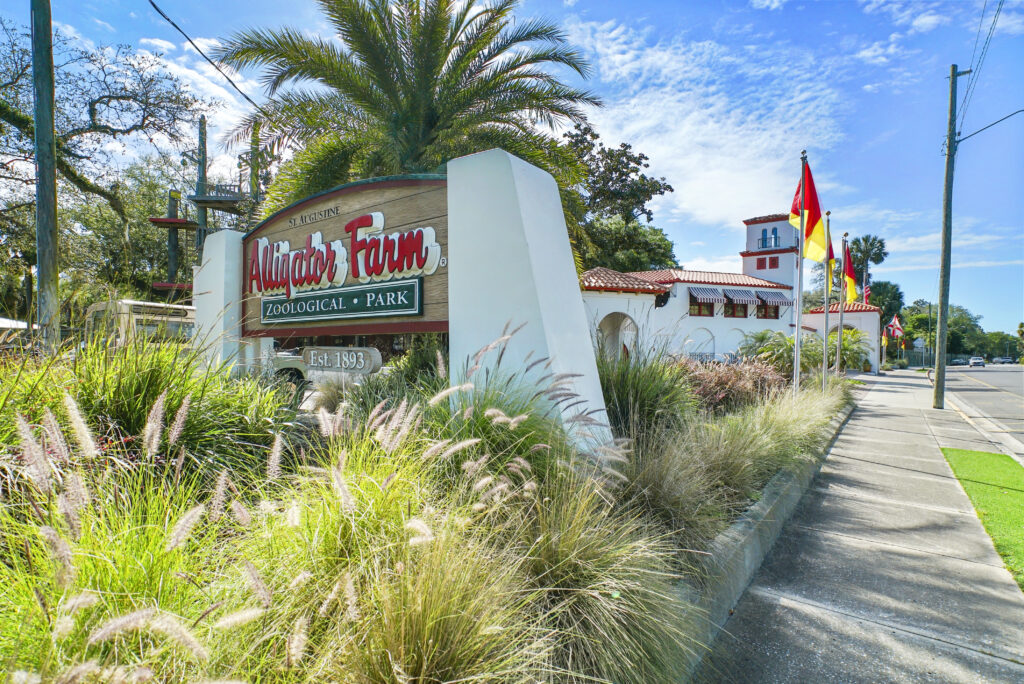 St. Augustine is an ancient city with an unrivaled and illustrious history. Founded in 1565, St. Augustine is an excellent place to visit for history buffs, nature enthusiasts, beach lovers, and anyone interested in seeing unique and exciting places. 
11 Fun and Unique Things to Do in St. Augustine
If you're looking for fun and unique things to do in St. Augustine, you've come to the right place. From historical museums and gorgeous beaches to local streets packed with delicious eats and treats, there's always something exciting to do in this beautiful city. Here are ten of the top attractions in St. Augustine, Florida.
1. St. George Street
Located in the heart of St. Augustine's Colonial Quarter, St. George Street is lined with old buildings, unique boutiques, and historic sites. It's a wonderful place to shop for souvenirs, food, drinks, and more.
2. Flagler College
Once the Ponce de Leon Hotel, Flagler College is a gorgeous piece of history. You can tour the beautiful grounds, take pictures of the stunning buildings, or even apply for classes if you plan on sticking around!
3. St. Augustine Lighthouse
Erected in 1874, the St. Augustine Lighthouse is a favorite among locals and tourists. Striped in black and white swirling lines, you can climb to the top of the lighthouse and peer out at the great Atlantic Ocean.
4. The Old Jail
Built by the same company that later built Alcatraz, the Old Jail is a relic right out of the history books. Closed down in 1953, the Old Jail is now a museum with guided tours, exhibits, and prison artifacts.
5. Pirate and Treasure Museum
The Pirate and Treasure Museum is home to countless exhibits, artifacts, and glittering treasures. It houses the most extensive collection of authentic pirate artifacts in the world.
6. Fort Matanzas National Monument
Located on the north side of Rattlesnake Island, Fort Matanzas National Monument is a beautifully restored fort and tower built in 1742 by the Spanish. It's a gorgeous piece of history that every St. Augustine visitor should see. 
7. The Oldest House Museum
The Oldest House Museum is believed to be the oldest residential house in the entire state of Florida. Reliably dated back to 1723, this old house is open to the public with exhibits, tours, and relics almost 300 years old.
8. Castillo de San Marcos National Monument
A crown jewel of historic St. Augustine, the Castillo de San Marcos National Monument is an incredible piece of history. Constructed out of limestone, the fort was attacked many times and besieged twice but never failed to protect its city. It was also gorgeously constructed, so it's the perfect place for history buffs and anyone interested in old architecture. 
9. Lightner Museum
Located on the Flagler College campus grounds, the Lightner Museum is home to vast collections of art, musical instruments, and fine furniture. It even houses a shrunken human head. This is an excellent place to visit for anyone who loves art, history, and a touch of the bizarre. 
10. Anastasia State Park
You will never be bored at Anastasia State Park. If you're truly looking for a great time in St. Augustine, you cannot go wrong here. They offer an almost endless list of amenities, including nature hikes, gorgeous beaches, watersports, biking, fishing, and more.
11. Alligator Farm
The St. Augustine Alligator Farm Zoological Park is one of Florida's oldest continuously running attractions, having opened on May 20, 1893. It has 24 species of crocodilians, and also a variety of other reptiles, mammals and birds, as well as exhibits, animal performances and educational demonstrations.
Looking for a Place to Stay?
Are you looking for a nice place to stay in St. Augustine? Well, look no further! Here at The Local, comfort and style are our top priorities, and we're located just minutes away from all the action St. Augustine has to offer. Reverse a room today!