Skip to Content
Explore the Sites and Sounds Near The Local - St. Augustine
The Local - St. Augustine is in close walking and driving distance to many exciting things to do in St. Augustine, FL. Explore the sights of history and sounds of concerts, all close to your hotel room. Take a walk to nearby restaurants like the Conch House for fresh seafood, Mojos for some great tacos, or Odd Birds for a craft cocktail. We are on Anastasia Island, near the Bridge of Lions with easy access to historic downtown and just a 5-minute drive to St. Augustine Beach. From exploring ancient ruins and hiking natural trails to paddle-boarding on the ocean and listening to live music, you're within minutes of the best experiences of your life.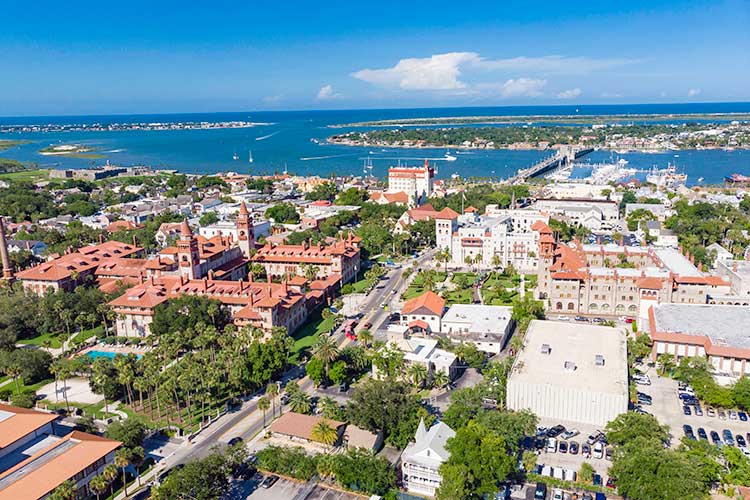 Exploring the Oldest City in the United States
Spanish explorers discovered this area in 1565, beginning what would become an iconic, legendary city. We take pride in being a small part of America's oldest city. St. Augustine, FL is a place of breathtaking beaches, mouth-watering food, cobblestone streets, and intricate architecture. It's a place that combines modern amenities with ancient history. American industrialist Henry Flagler made his mark on the city, creating magnificent hotels and other buildings like the City Hall complex, Lightner Museum, and what is now Flagler College. Visitors can explore some of the oldest buildings in the world, surf for a few hours, enjoy some of the best golf in the state, and end the day with fresh seafood. St. Augustine is a place for all ages offering unique excursions for everyone.
Visit the Famous Sites of St. Augustine, FL
St. Augustine is one of the most unique, beautiful places in the world. As a historic city with a modern twist, it's a tourist's dream location. Some of the nearby places to explore include:
Listen to some of your favorite bands and enjoy the beauty of the St. Augustine Amphitheatre. The outdoor entertainment venue seats over 4,000 people.
The white sands of Anastasia State Park offer miles of beach, hammock preserves, and tidal salt marshes. You can spend hours hiking nature trails and check out the city's oldest inlet, where the Atlantic Ocean meets the Matanzas.
Housed in the former Alcazar Hotel built in 1888, the Lightner is a great place to explore beautiful artwork and view natural history specimens. Visitors immerse themselves in an experience filled with architecture and artwork.
Constructed by the Spanish between 1672 and 1695, the Fort is the oldest masonry fortress in the US. Tourists experience the walls that stood up in battle, witness historical re-enactments and dive into the fort's history.
This important archaeological site is where many people believe Ponce de León came ashore. Legend states that people that drink from the water that flows from the natural spring called The Fountain of Youth stay young forever.
Fun Things to Do in St. Augustine