Skip to Content
The Best Tours to Take in St. Augustine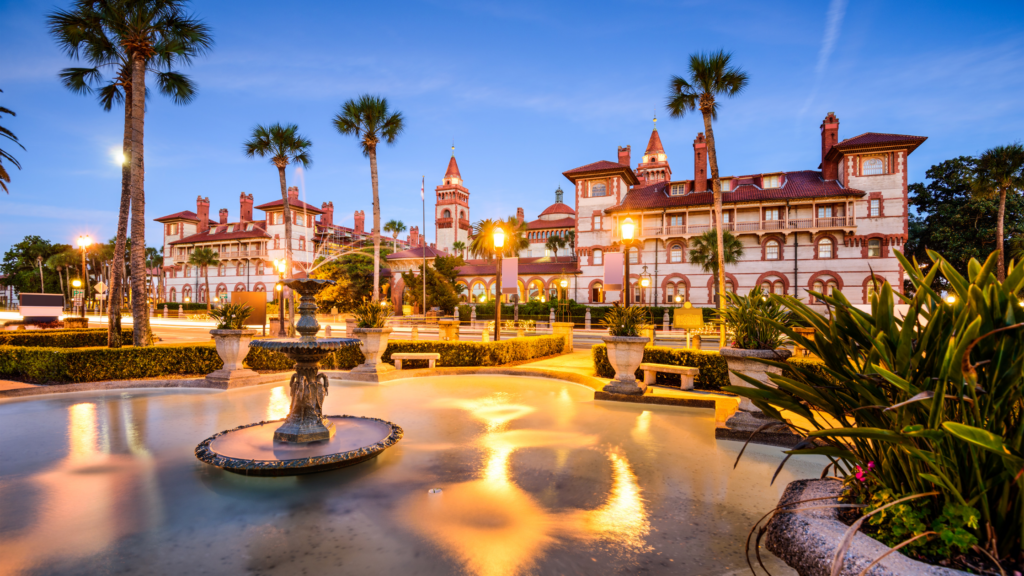 Exploring a new city can be challenging, especially when there's so much to do and see and so little time. That's why taking a tour under the guidance of an experienced, local tour guide can be so incredibly helpful. Whether you want to see the sights, sail the waters, or find the best places to eat, these are the best tours to take in St. Augustine.
Sightseeing Tours
Husband and wife team Anes and Luis started the amazing St. Augustine Land and Sea Tours with certified tour guides to help English and Spanish speakers better experience the oldest city in the United States. They offer boat, golf cart, walking, and food tours throughout St. Augustine.
On the Old Town Trolley Tours, visitors to St. Augustine get an in-depth and informative look at the city's illustrious history.
St. Augustine's original sightseeing tour, Ripley's Believe It or Not's Red Train Tours offers a knowledgeable and experienced look at all the historical and natural wonders St. Augustine has to offer.
Food and Wine Tours
If you're interested in locally distilled spirits, then City Gate Spirits offers the tour for you. You can try out their huge variety of whiskey, vodka, rum, and moonshine.
Home to the #1 Whiskey Tour in all of North America, St. Augustine Distillery is the spot to go for all your whiskey needs. They also offer various other craft spirits, including gin, vodka, and rum.
Founded in 1996, the San Sebastian Winery is a beautiful winery offering tours of their vineyards and extraordinary selections of award-winning wines. Located in a property once owned by Henry Flagler, this winery is just another part of St. Augustine's incredible history.
Dubbed the "best walking tours in St. Augustine," the St. Augustine Experiences Tour will show you the best places to find craft beer, chocolate, cocktails, wine, and local cuisine.
Don't forget to take the Whetstone Chocolate Tasting Tour, led by chocolatiers through a factory that's been making decadently delicious chocolates since 1967.
The Tasting Tours will guide you through the best food in all of St. Augustine. So, if you're looking for a bite to eat, you should definitely start here.
Boat Tours
St. Augustine Boat Tours offers fun and eventful cruises over the beautiful waters of the Intracoastal Waterway and Matanzas Bay. This tour gives you a close look at the St. Augustine Lighthouse, Flagler College, the Bridge of Lions, the Castillo de San Marcos National Monument, and more.
Chart a course for the open waters with St. Augustine Sailing tours. You can choose between featured sailing events and private charters, perfect for date nights on the water.
Pia and Me Scenic Charters offers private and intimate boat tours on the beautiful waters of St. Augustine.
The St. Augustine Scenic Cruise allows cruise the waters and see everything St. Augustine has to offer from the comfort of a double-decker boat.
Celebrating their 20th year in St. Augustine, Schooner Freedom Charters is a family-run operation that offers fun excursions on the gorgeous waters of St. Augustine.
Water & Eco Tours
The Sea Serpent Tours offer awesome adventures on airboats throughout Northeast Florida.
The Ripple Effect Ecotours offer guided boat and kayak eco-tours in St. Augustine, showing you the incredible wildlife and beautiful water. It's an excellent option for a date night and fun for the whole family.
If you're interested in seeing all the aquatic wildlife that calls St. Augustine home, the St. Augustine Eco Tours are the tours for you. They offer boating expeditions, sailing excursions, and kayaking adventures.
The Florida Water Tours offer scenic boat tours throughout St. Augustine, allowing you the time to leisurely take in the city's wonders while enjoying the open water.
Anastasia Watersports offers stand-up paddleboarding and kayaking tours through the natural beauty of Anastasia State Park, easily one of the best parts of St. Augustine.
Paranormal & Ghost Tours
Ancient City Tours offers a ghost tour that explores the darkest parts of St. Augustine's history, including spooky tales and local legends.
When you take this haunted tour, you get an EMF Ghost Meter to enhance your experience and let you know when ghosts are around.
Available through Old Town Trolley Tours, the Ghost and Gravestones Tour takes you through the haunted history of old St. Augustine.
Looking for a Place to Stay in St. Augustine?
When you spend your days taking the best tours in St. Augustine, you should spend your nights at The Local. We offer incredible deals, world-class amenities, and the comfiest beds in the entire city. Plus, we're located just minutes away from all the action St. Augustine has to offer.