Skip to Content
Arts and Culture in St. Augustine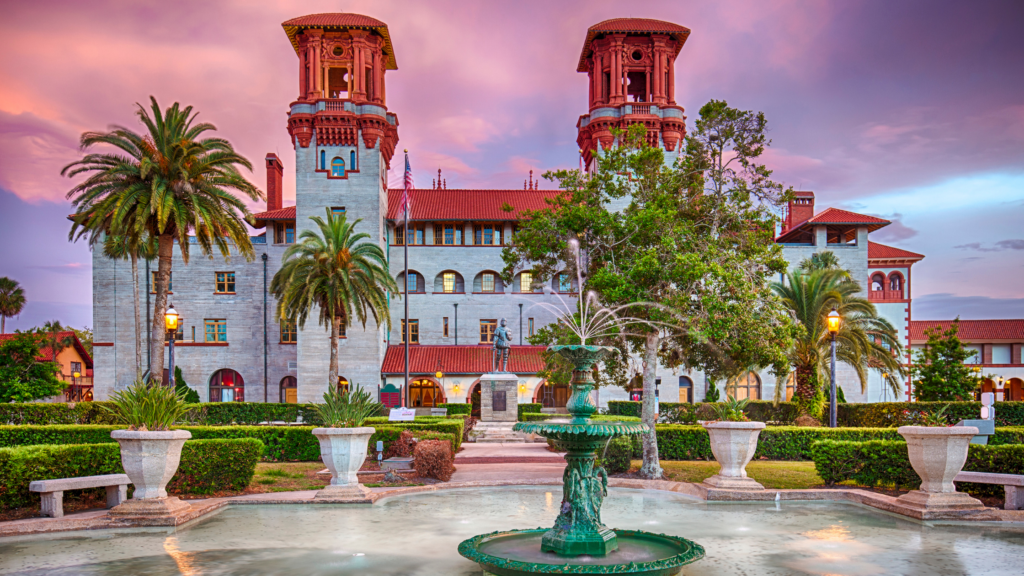 While many people come to St. Augustine to explore its vast history, there's a lot that makes this city one of the most cultured cities in the United States. Dubbed the country's original melting pot, St. Augustine is home to countless art forms, ancient and modern cultural marvels, and the space those things need to grow and prosper. So, if you're interested in exploring the arts and culture in St. Augustine, you've come to the right place.
Museums and Art
Lightner Museum
Formerly a beautiful hotel, this museum has extensive science and natural history exhibits, including vast collections of Tiffany glass and gorgeous antiques.
Local Art Galleries
St. Augustine is also home to countless locally-owned art galleries in several districts, including the Historic Art District, St. George District, Flagler District, San Sebastian District, Uptown, Midtown, Anastasia Island, and more! This city is overflowing with ancient, classic, and modern art exhibits for your viewing pleasure.
First Friday Artwalks
If you take part in First Friday Artwalks (which takes place on the 1st Friday of each month from 5 p.m. to 9 p.m.), you can visit all the local art galleries and enjoy eats, drinks, and conversation about the art featured in each of the galleries.
Performing Arts
Limelight Theatre
The Limelight Theatre is a community theater that puts on dramas, comedies, musicals, and family-friendly productions year-round. They also offer children's, improv, and adult acting classes.
Apex Theatre Studio
The Apex Theatre Studio puts on shows, readings, and theatrical presentations, offering the people of St. Augustine acting, dancing, singing, and stage classes.
A Classical Theatre
This theater offers professional and classical performances year-round. Make sure you check out their show schedule and event calendar to see what they're putting on while you're in town.
St. Augustine Film Festival
The St. Augustine Film Festival welcomes documentaries and films from directors and creators all over the world. There's always something unique and brilliant to catch at this incredible festival.
Live Music
St. Augustine Amphitheatre
From pop icons to rising stars, the St. Augustine Amphitheatre hosts countless artists in its 16-acre gorgeous outdoor theater. Schedules vary, so don't miss out on the opportunity to see some of your favorite artists perform live on this beautiful stage.
Other Music Venues
There are also other music venues where you can catch great live music while you're out on the town in St. Augustine. For awesome live music events, you should visit:
Tradewinds Tropical Lounge
The Ice Plant
The Cellar Upstairs
Salt Life Food Shack
Prohibition Kitchen
Milltop Tavern & Listening Room
Harry's Seafood Bar and Grille
Dog Rose Brewing
Casa de Vino 57
A1A Aleworks
They all have varying event calendars and schedules, so be sure to check out their event pages on their websites for more details.
Music Festivals and Events
There are also a bunch of music festivals and event spaces that host everyone from local artists to world-famous icons in St. Augustine throughout the year. Be sure to check out:
St. Augustine Greek Festival
Colonial Oak Music Park
Concerts in the Plaza
Music By The Sea Concert Series
Celtic Music and Heritage Festival
Sing Out Loud Festival
Their schedules and event calendars also vary, so be sure to check out their individual websites for more detailed information.
Arts and Crafts Festivals
Pop up Market at Vilano Beach
On the 3rd Saturday of each month, you should visit the Pop Up Market at Vilano Beach, where you can find tables and booths offering eats, drinks, crafts, and other goodies from local artists, artisans, and entrepreneurs.
Outdoor Bougie Market in Uptown St. Augustine
On the 2nd Sunday of each month, you can visit the Outdoor Bougie Market in St. Augustine's Uptown area, where you can find aromatherapy, art, trinkets, and other handcrafted items from local talent.
St. Augustine Beach Pier Art & Craft Festival
This festival takes place February 19-20, 2022, and March 12-13, 2022. The St. Augustine Beach Pier Art and Craft Festival offers fun in the sun, exploring some of the best art and craft displays you'll find in the country.
Old Town Art Show
This art show takes place April 9-10, 2022. It takes place in St. Augustine's historic downtown, featuring over 100 booths from local artists, makers, and builders with incredible works to show and sell to the public. Admission is free.
St. Augustine Festival of Art
This art festival takes place November 26-27, 2022. With exhibits of jewelry, paintings, sculptures, woodworks, pottery, glass, and other finely crafted goods, this is the perfect spot to see some art and pick up some unique Christmas gifts for friends and family.
Need a Place to Stay?
While you're in town to see all the art and culture St. Augustine has to offer, you should stay at The Local. We offer affordable rates, contemporary styling, and incredible amenities. Reserve a room today!