Skip to Content
St. Augustine's Nights of Lights Festival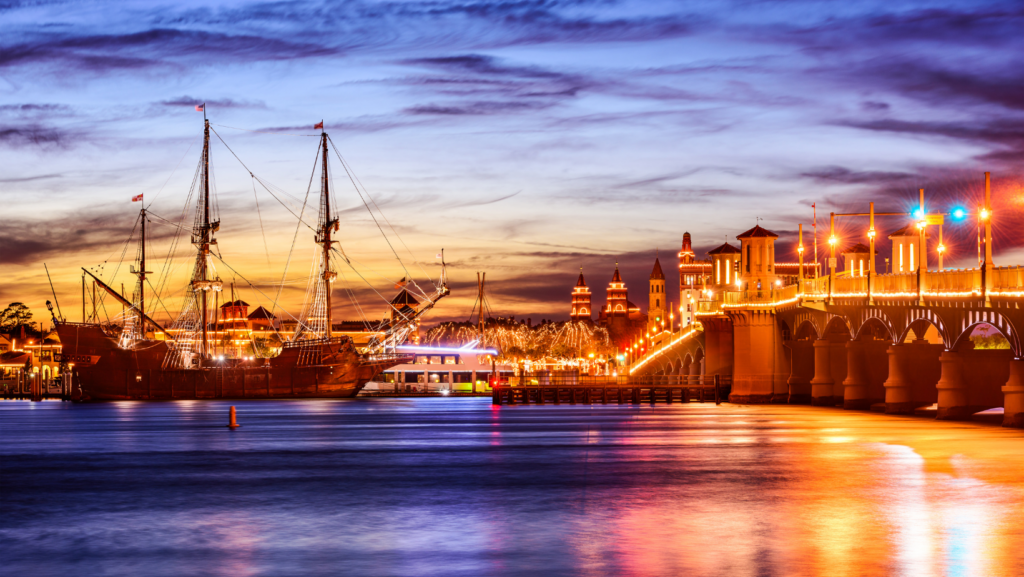 St. Augustine's 28th Annual Nights of Lights festival is quickly approaching, and we couldn't be more excited. While there are always exciting and fun things to do in St. Augustine, the Nights of Lights festival is one of our favorite events of the year. People from all over come to celebrate and gawk at the most gorgeous and unforgettable lighting displays in Northeast Florida.
Over 3 million lights are meticulously strung throughout the historic district of the United States' oldest city, St. Augustine, for two straight months. This year's light show starts on November 20, 2021, and ends on January 31, 2022. Even local businesses get into the festivities, keeping their doors open later so you can take in the sights, dine on delicious local cuisine, and browse the local shops and boutiques.
Nights of Lights Festival Itinerary
Don't forget to attend the unforgettable "Light-Up! Night," which starts at 4 p.m. at St. Augustine's City Hall on November 20th, 2021. The festivities will commence with a performance by Showtime USA, performing a litany of holiday favorites. St. Augustine's All Star Orchestra takes the stage at 5:30 p.m. at the Plaza de la Constitución Gazebo. And at 6:30 p.m., they hit the switch, and the entire historic district of St. Augustine comes to life.
This is not a night you'll want to miss. The lighting displays is recognized as one of the 10 Best Holiday Lighting Displays Around the World.
The History of the Nights of Lights Festival
This night was born of the age-old Spanish tradition of putting a white candle in a window during the holiday season. This, of course, alludes to the story of Mary and Joseph, who couldn't find shelter the night Jesus was born. The candles were a way for people to signify that they had room in their homes and hearts for Mary, Joseph, and Jesus.
The tradition remains the same for many, but it also represents a vibrant and exciting start to the holiday season. All guests and visitors are welcome in St. Augustine. From the St. Augustine Lighthouse to the Nights of Lights festival, our historic city will always be a beacon of light for anyone looking for a warm, friendly, and beautiful place to stay.
Must-See Lighting Displays at Nights of Lights
There are countless photo opportunities throughout St. Augustine during the Nights of lights, so don't forget to capture and memorialize your time here. And while the entire district is blanketed in intricate lighting, there are definitely some must-see lighting displays throughout historic St. Augustine during the annual Night of Lights.
You can peruse some of the most dazzling and intricate lighting displays at Flagler College and the Lightner Museum. You should also stay after the All Star Orchestra performs and see the gorgeous set up at the Plaza de la Constitución. They drape lights around every single tree and put up a gigantic Christmas tree every year.
Plus, don't forget to take a trip down St. George, Orange, and Cordova streets for more beautiful lights and great places to shop or grab a bite to eat. And if you're looking for the best of the best in the city, the Tini Martini Bar at the Casablanca Inn frequently wins awards for its fantastic lighting displays.
Don't Forget About Tours
If you're unsure where you should start on your Nights of Lights journey, why not take a tour? St. Augustine has many great tour companies that know this city and would love to show you around. For fun and exciting Nights of Lights tours, check out:
Old Town Trolley Tours
Ripley's Red Train Tours
St. Augustine Sailing
Florida Water Tours
Scenic Cruise Tours
St. Augustine Eco Tours
Looking for a Place to Stay?
If you're looking for an awesome place to stay while you visit St. Augustine during the Night of Lights festival, then you should definitely check out The Local – St. Augustine! With the best location in the city, we're minutes away from St. Augustine's historic downtown area, and we have the best accommodations in the city. Reserve a room today!