Skip to Content
Things to do During Nights of Lights
Welcome to the world of "Nights of Lights," a beloved 30-year tradition in St. Augustine, FL that bathes the city in a warm and festive glow. This award-winning holiday lights display runs from Saturday, November 18, 2023, to January 31, 2024. If you're hoping to find yourself at the radiant celebration this year, you've come to the right place! Here are some of our favorite tours, eats, shops, and more for the perfect holiday getaway on Florida's Historic Coast.
TOUR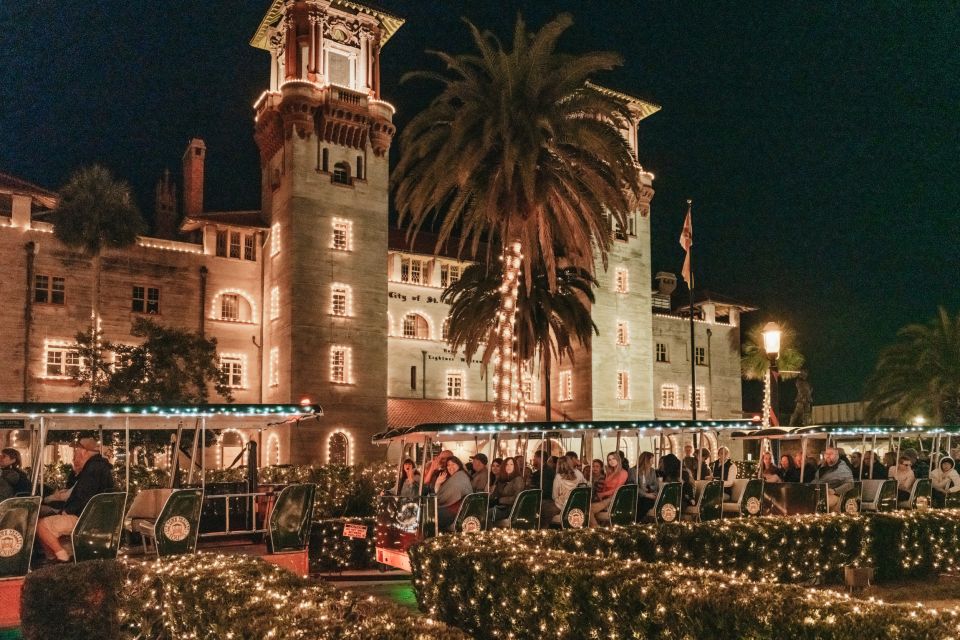 During the enchanting Nights of Lights in St. Augustine, there's no shortage of delightful activities to partake in. Although a stroll down the cobblestone streets of the historic district is a must, there are so many ways to enjoy the millions of dazzling lights that adorn centuries-old buildings that will create a truly magical experience. 
This 45-minute ride through Historic Downtown includes magic glasses, cheerful drivers, and popular seasonal songs on the speakers. It is even complete with hot apple cider and fresh sugar cookies at the end of your ride. From November 19, 2023, through January 28, 2024, starting at 6:00 p.m., guests can reserve a row with up to four people for only $69.99. 
Immerse yourself into a world of magic, where Whoville meets St. Augustine. This 45-minute un-merry ride through town with the Grinch is a favorite with kids and parents alike. Priced at $35.00 per person aged two and over or $275.00 for private tours for up to nine people, you'll embark on a journey through the twinkling lights with none other than the Grinch himself. With tons of tour times on weekdays and Saturdays, there's sure to be availability during your upcoming visit.
Imagine cruising along the beautiful bayfront at night, lights twinkling all around. Florida Water Tours offers family-friendly Nights of Lights tours on one of two multi-passenger vessels — their 45-foot Osprey has a bar on board and the 35-foot Island Breeze. Each tour includes complimentary magic glasses that bring extra life to the twinkling lights and a cup of hot cocoa for every guest. Admission ranges from $6.00-$39.00 depending on age. 
Setting sail on the shimmering waters of Matanzas Bay, this unique charter offers a front-row seat to the city's stunning Nights of Lights display. These private or shared charter cruises on a luxury sailboat include meals, dessert, and sparkling wine. Guests can choose from one of the four magical packages below.
Glitter Package  —

Three-hour exclusive cruise for up to six passengers, with a four-course meal, starts at $495.00 per person.

Sparkle Package —

Two-hour cruise for up to 10 passengers, with a curated selection of sweet and savory bites and a glass of sparkling wine, starts at $129.00 per person.

Twinkle Package

— A seventy-five-minute cruise with a dessert and festive beverage, beginning at $99.00 per person. 

Shared Nights of Lights Cruise

— A seventy-five-minute cruise, with beverages and snacks available for purchase before departure, begins at $89.00 per person.
Old City Carriages
The St. Augustine Old City Carriage Nights of Lights ride is a delightful and romantic way to immerse yourself in the charm of St. Augustine's festive season. Snuggle up under warm blankets for an elegant 45-minute horse-drawn carriage ride as you meander through the cobblestone streets of the historic district, adorned with millions of dazzling lights. The clip-clop of the horse's hooves and the soft glow of the holiday lights create an enchanting atmosphere, making it a perfect experience for couples and families alike. Priced at $100.00 for one to five people, this picturesque journey is a cherished tradition for anyone seeking a memorable and cozy winter evening in this enchanting city – Be sure to give them a call to schedule your next ride, (904) 788-9229.
EAT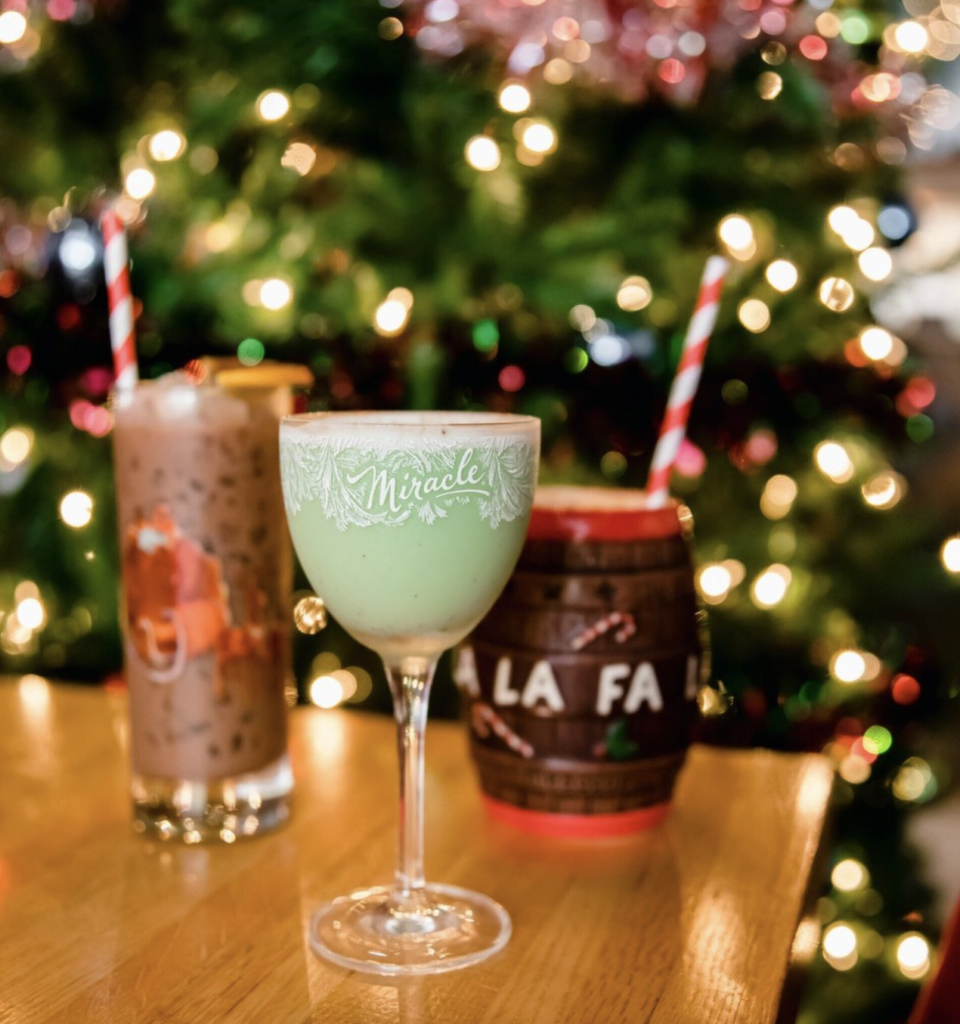 Downtown's newest hot spot was curated with nightlife in mind! Bourbon & Boards can be found at 17 King Street, open Fridays and Saturdays from 7-11 p.m.,  serving up a curated selection of over 137 bottles of bourbon, 900 bottles of wine, hand-crafted cocktails, bar-cuterie boards, and specially-made tapas.  Immerse yourself in the intimate, speakeasy atmosphere with live jazz music and delicious bites on your holiday visit to the Ancient City.
In the heart of Uptown St. Augustine, Chez L'Amour is a brand-new culinary gem that is quickly capturing the hearts and palates of locals. This elevated dining concept boasts a deeper social experience through tapas-style small plates, upscale plant-based cuisine, decadent desserts, and a full bar where your cocktail creations are (almost) endless. Enjoy a dinner that is complemented by intimate jazz and piano music performed by world-class musicians, making it a must-visit on your trip.
Forgotten Tonic's "Miracle" is a delightful Christmas-themed pop-up that adds a generous dose of holiday spirit to any evening. With its whimsically festive decor and an imaginative cocktail menu, Miracle creates an atmosphere that's perfect for celebrating the most wonderful time of the year. Whether you're sipping a beautifully garnished drink by the twinkling Christmas tree or indulging in a classic holiday cocktail, this charming pop-up is a merry, must-visit destination that brings the enchantment of the season to life in every glass.
You'll find this local favorite nestled on St. George St, where its culinary treasure celebrates the bounty of the sea. The menu features an array of delectable dishes, from grilled fish to seafood paella, all expertly prepared to highlight the natural flavors of the ocean. With its cozy patio ambiance and commitment to supporting local fishermen and farmers, Catch 27 provides a genuine taste of the region and a dining experience that truly embodies the essence of St. Augustine.
SHOP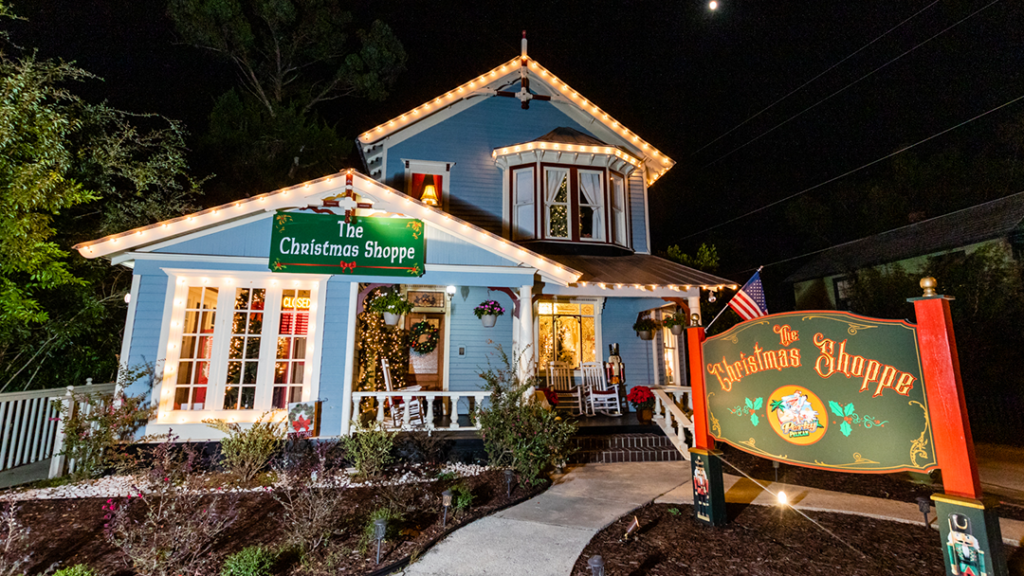 Located at, 41 San Marco Ave, St. Augustine's Perky Pelican Christmas Shoppe is a whimsical winter wonderland that enchants visitors with the spirit of the holiday season year-round. This charming store is a delightful year-round treasure trove of festive ornaments, decor, and unique holiday gifts. The shop's warm and inviting atmosphere, coupled with its wide selection of Christmas-themed merchandise, makes it a must-visit destination during the holiday season. Whether it's a tree adorned with nautical ornaments or handcrafted wreaths, the Perky Pelican Christmas Shoppe is sure to have something for you to carry home that captures the magic of Christmas in St. Augustine.
Set within the stunning backdrop of the historic Lightner Museum, this Holiday Market holds a magical seasonal experience that combines history, art, and holiday spirit. Local artisans with offerings for everyone on your holiday gift list will be on display from 5-8 p.m. on December 7, 2023.
The Holiday Market at St. Augustine Beach is a delightful coastal celebration that adds a touch of seaside charm to the holiday season. Located at the iconic St. Augustine Beach Pier, this market offers a unique shopping experience with a view of the beautiful Atlantic Ocean. This event captures the coastal community's warm and welcoming spirit, making it the perfect place to find unique gifts, arts, and crafts, and holiday treats, all while soaking up the holiday vibes with the ocean as a backdrop. Bring the whole family to St. Johns Ocean Pier Park on December 9, 2023, and enjoy the fun!
Located at the St. Augustine Amphitheatre, this market offers a picturesque setting for holiday shopping and merriment. Visitors can explore an array of booths featuring food trucks, desserts, quality arts and crafts, a full bar, and live music. With the backdrop of the beautifully lit amphitheater and live entertainment, this market is a hub of holiday cheer. Mark your calendars for December 19, 2023, and get ready to shop until you drop from 5-9 p.m. Admission is free and the market is open to the public! 
STAY
Staying at The Local – St. Augustine during this year's Nights of Lights is a delightful choice that promises to enhance your experience in the nation's oldest city. Our charming boutique motel perfectly encapsulates the historic and festive ambiance of St. Augustine. Located in the heart of Anastasia Island, you'll find yourself steps away from the dazzling light displays, cobblestone streets, and iconic landmarks of Historic Downtown. The Local's cozy and uniquely decorated rooms offer a comfortable retreat after a day of exploring the city's holiday magic. With warm hospitality and modern amenities, it's the ideal home base for immersing yourself in the enchanting atmosphere of Nights of Lights and creating lasting memories of your St. Augustine visit.