Skip to Content
October in the Oldest City
As the crisp breeze of October slowly sweeps in, St. Augustine, Florida, beckons with a delightful array of activities and experiences to savor this October. From spooky Halloween festivities to charming Fall events, there is a plethora of festive things to do that will delight visitors of all ages, here's a few of our favorites this year!
Take a Ghost Tour with See America Tours
One spine-tingling experience you simply can't miss when visiting St. Augustine in October is taking "The Night Watchman Ghost Tour" with See America Tours. This historic city is often regarded as one of the most haunted in the United States, and it comes alive with ghostly tales as the Halloween season approaches. Picture yourself strolling down cobblestone streets under the dim glow of lanterns, as your guide weaves captivating stories of restless spirits, haunted inns, and eerie occurrences that have taken place over centuries. The crisp October night air and the aura of mystery that pervades the city make for a perfect backdrop to dive into its haunted history. Whether you're a believer in the paranormal or just a curious adventurer, booking a ghost tour in St. Augustine is sure to send shivers down your spine and leave you with tales to share long after the tour ends. It's an unforgettable experience that will leave you feeling both intrigued and slightly haunted in the BEST way possible.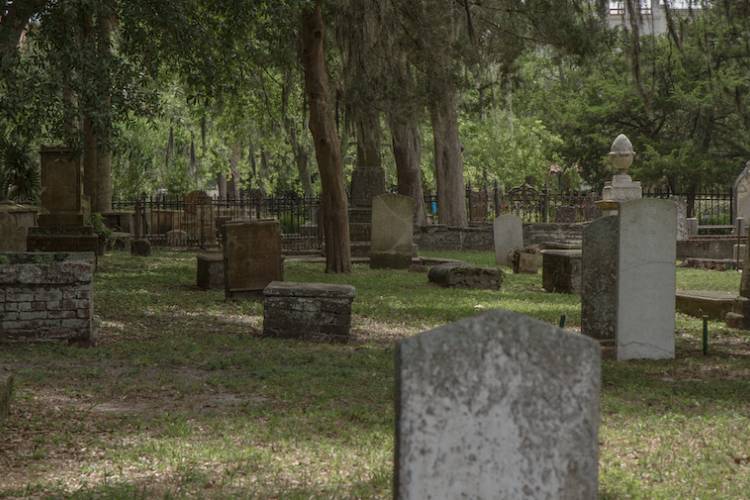 It's PSL Season
As the autumn leaves begin to fall and a gentle chill graces the Florida air, there's no better way to embrace the flavors of the season than with a steaming (or iced) pumpkin spice latte from Relampago Coffee Lab in downtown St. Augustine. Nestled in the heart of this historic city, Relampago Coffee Lab has perfected the art of crafting this seasonal favorite. With each sip, you'll be transported to a cozy, Fall wonderland as the rich espresso blends harmoniously with the warmth of pumpkin and aromatic spices. The bustling streets of downtown St. Augustine provide the perfect backdrop for sipping your latte, as you explore the city's charming cobblestone streets, historic landmarks, and unique boutiques along St. George Street. It's a delightful indulgence that captures the essence of October and adds a touch of comfort to your visit to this enchanting coastal town.
Visit the Pirate & Treasure Museum
Ahoy, matey! It's time to set sail for the Pirate & Treasure Museum, an absolute treasure trove of swashbuckling history and adventure. This captivating museum invites you to step back in time to an era when pirates ruled the high seas. As you explore its immersive exhibits, you'll discover the intriguing stories of legendary buccaneers like Blackbeard and Captain Kidd. From authentic pirate artifacts to interactive displays, this museum offers an exhilarating journey into the Golden Age of Piracy for all ages. Plus, the Halloween season adds an extra layer of excitement, making it the perfect time to uncover the secrets of these notorious rogues while surrounded by the enchanting ambiance of St. Augustine's historic district. Whether you're a history enthusiast, an aspiring pirate, or simply looking for a unique and thrilling experience, the Pirate & Treasure Museum is a must-visit destination that promises adventure on the high seas right in the heart of Florida's oldest city.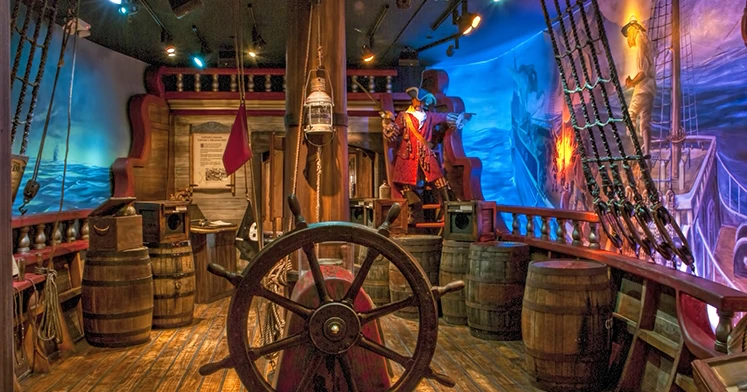 A Spooky Night at the St. Augustine Alligator Farm
For a uniquely spine-tingling experience, look no further than the "Creatures of the Night" event at the St. Augustine Alligator Farm. This family-friendly event offers a thrilling twist on your typical visit to the zoo. As the sun sets, the creatures of the night come to life, and you can witness nocturnal animals in their element. From owls and bats to alligators and more, this event provides an opportunity to explore the fascinating world of nighttime wildlife. With special exhibits, educational programs, and even a few surprises, it's a perfect way to add a touch of adventure to your October visit while enjoying the eerie charm of St. Augustine after dark.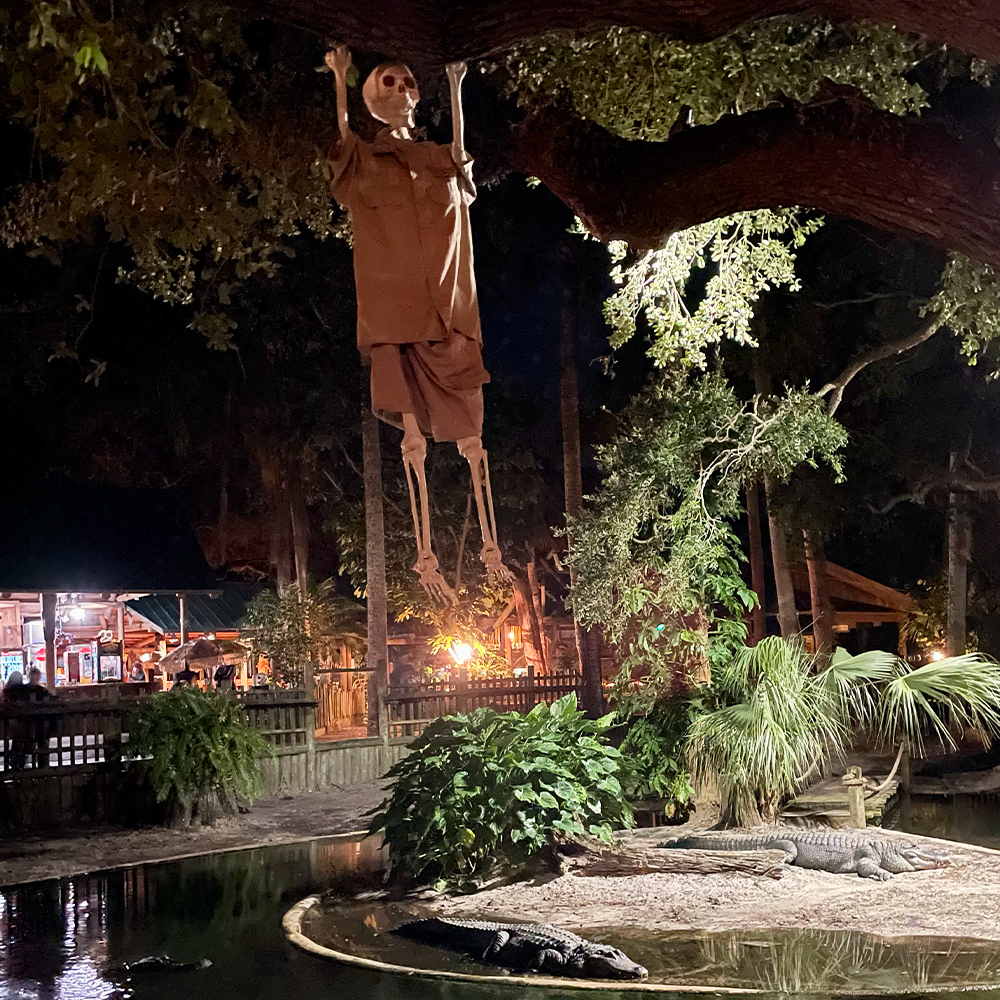 Trick-or-Treating in the Oldest City
Mark your calendars for a spooktacular pre-Halloween treat! On October 30th, from 2:30 to 5:00 p.m., Saint George St. in St. Augustine transforms into a magical, family-friendly realm for a delightful afternoon of trick-or-treating. This annual event promises a whimsical atmosphere, with costumed children and families strolling along the charming, historic street, collecting sweets from participating shops and businesses. With the ancient city's backdrop, the experience takes on a special charm, making it the perfect prelude to Halloween night. Join in the fun, and don't forget your favorite costume!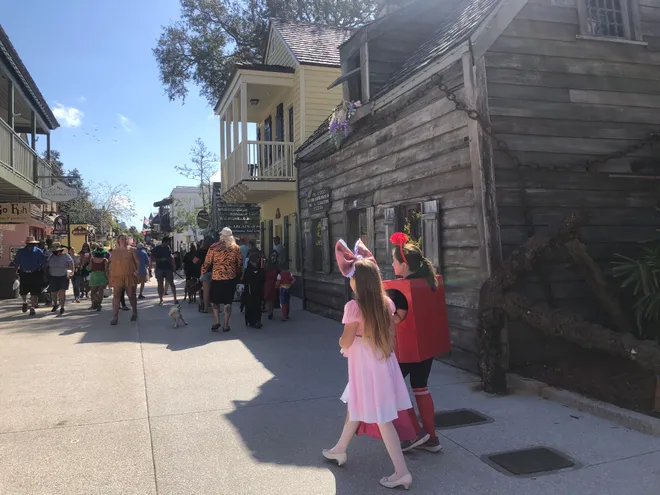 Stay Awhile
When you're ready to rest your head after a long day of spooktacular activities, look no further than The Local – St. Augustine. Nestled in the heart of Anastasia Island, this boutique motel offers comfortable accommodations and a prime location for exploring both the cobblestone streets of downtown and the stunning beaches of the East Coast. Enjoy modern comforts while immersing yourself in the rich history of this charming city. Book your stay today!