Skip to Content
Top Places to Grab Dinner in St. Augustine During Nights of Lights
If you're familiar with St. Augustine, Florida, then you know that Nights of Lights is one of the most magical times of the year. With over three million sparkling lights on display, visitors and residents alike are invited to walk the city as they take in the view of the beautifully-decorated Plaza de la Constitución and surrounding buildings. If you're looking for the perfect Nights of Lights outing, then be sure to grab a meal at one of St. Augustine's many restaurants and bask in the view.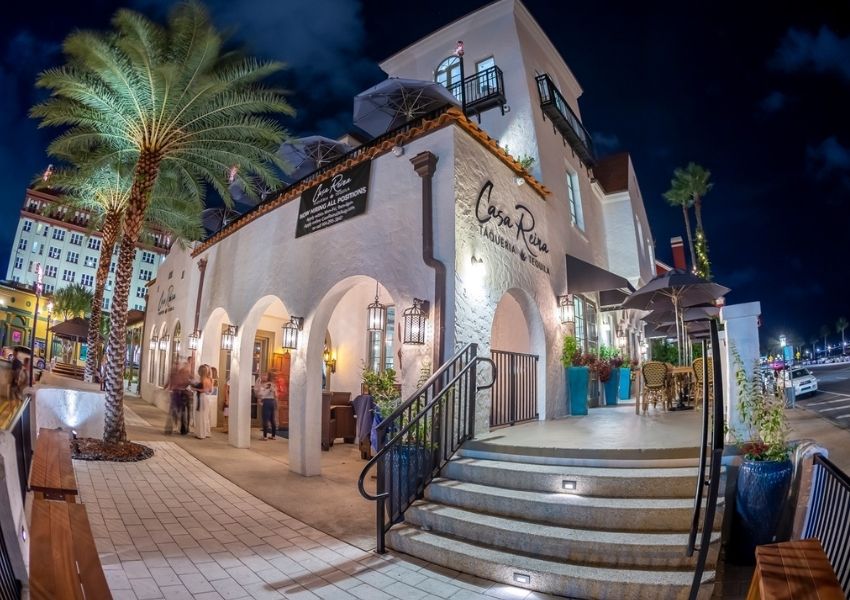 Casa Reina Taqueria & Tequila
Located along the bayfront, Casa Reina is St. Augustine, Florida's newest addition to the culinary scene. The diverse menu offers something for everyone, with flavors inspired by a blend of Mexican, Latin American and Florida Coastal cuisine. Choose from classics like the Chimichanga and Carnitas Platter or switch it up with Mexican Sushi or Tequila Lime Grouper. So, grab a seat outside and enjoy a view of the waterfront, or head upstairs to the rooftop and take in the sight of the city dressed in lights. Whichever you choose, we promise it's worth it!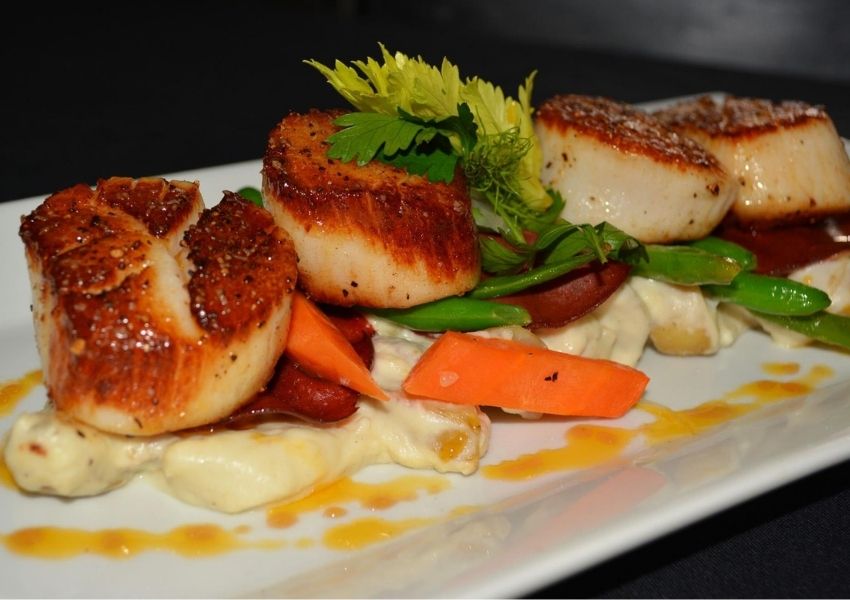 Collage
Located in the heart of downtown St. Augustine, Florida, Collage offers a delicious dining experience of fresh, seasonal offerings and international flavor. Each dish is prepared from scratch and locally-sourced, including fish from local waters and produce from nearby farms to create an unforgettable experience. Perfect for an evening out with friends, or a romantic date night, guests will enjoy the extensive wine list alongside mouthwatering meals like Datil Pepper Carrot Bisque, Homemade Lobster Ravioli, Diver Caught Sea Scallops and more.
The Floridian
This locally-owned restaurant is a must-visit when it comes to Nights of Lights dinner in St. Augustine, Florida. Serving up Southern fare with a twist, The Floridian has everything from comfort cravings to light bites and even vegetarian options. With a seasonally-inspired menu and locally-sourced ingredients, this menu is bursting with local flavor. Enjoy Southern classics like Fried Green Tomatoes, Cornbread Panzanella and Mama's Meatloaf alongside delicious cocktails in a vibrant atmosphere. With plenty of options to choose from, you'll want to try it all!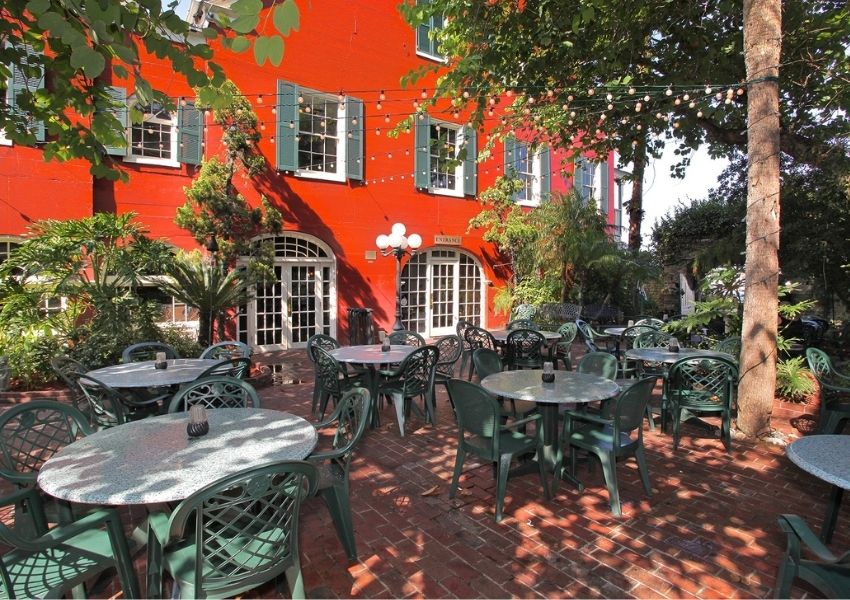 Harry's Seafood Bar and Grille
Established in 1987, Harry's Seafood Bar and Grille is the place to go for dinner and people watching in downtown St. Augustine, Florida. Serving up the very best in Southern, Cajun and Creole flavors, dive into tasty dishes including Jambalaya, Blackened Redfish or Chicken and Shrimp Creole. Located across from the iconic Bridge of Lions and just a short walk from all things Nights of Lights, pop into Harry's for a delicious experience! Guests are invited to take a seat in the courtyard and enjoy an evening under the lights or head upstairs to the balcony and sip on a signature cocktail with a view of the bay. Whatever it is you're looking for, we're sure you'll find it at Harry's.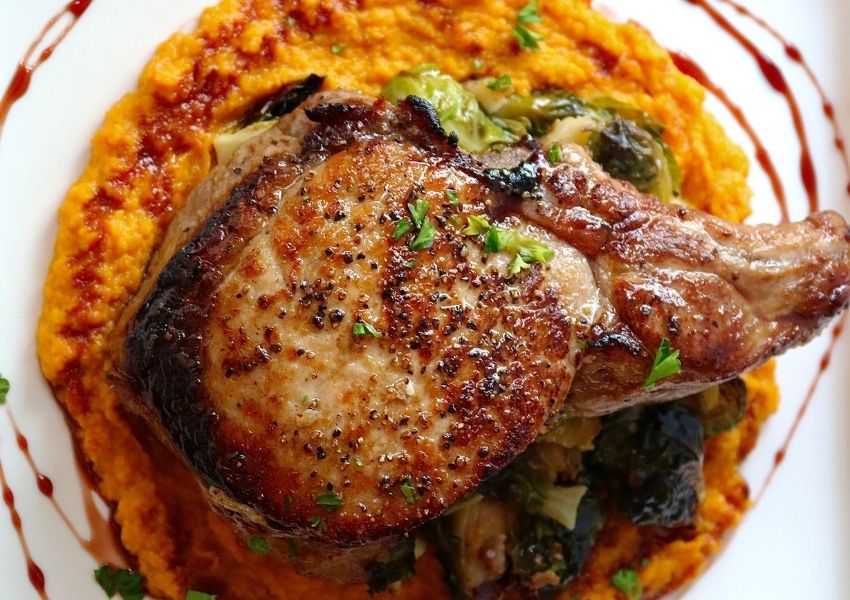 Uptown Swinery
Located in Uptown St. Augustine, Uptown Swinery gets you away from the hustle and bustle of downtown while providing all things festive for the season. This Southern-inspired restaurant serves everything from salads and grazing boards to fresh bowls and comfort meals. The best part? They have a signature cocktail menu celebrating Nights of Lights! The specialty-crafted drinks inspired by St. Augustine's annual event include seasonal flavors ranging from apple pie moonshine, cinnamon whiskey and pomegranate liqueur. Enjoy a delicious meal and a festive drink before taking in the sights when you visit Uptown Swinery.
Stay Awhile
If you need a place to stay after exploring Nights of Lights, then why not head over to The Local – St. Augustine? Located on Anastasia Island, just minutes from downtown, our newly-renovated rooms, digital check-in and comfortable beds are just what you need for a relaxing stay after a night of wining and dining in the Ancient City.