Skip to Content
How to Celebrate Cinco de Mayo in St. Augustine
Cinco de Mayo is right around the corner and when it comes to celebrations, the Ancient City is no stranger. With plenty of delicious Mexican restaurants to explore, there's plenty of tasty platters and festive libations to enjoy. Whether you're just looking for a celebratory taco or are in need of a strong margarita, we've got you covered. Here's how to spend Cinco de Mayo in St. Augustine, Florida.
Tacos Galore at Osprey Tacos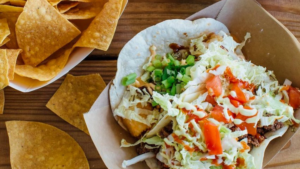 Everyone knows that when it comes to Cinco de Mayo, tacos are required. Thankfully, if there's one thing St. Augustine knows how to serve, it's a taco. If you're looking for a delightful street-style taco with fresh veggies and seasonally-inspired flavors, head over to Osprey Tacos on Anastasia Island where Mexican street tacos are at the heart of the menu. We're particularly fond of the fresh shrimp and fish tacos for a taste of St. Augustine.
Dive into a Double Decker at Mojo's Tacos 
Known for their 'double decker' style tacos, Mojo's Tacos is a St. Augustine staple that you won't find anywhere else. Enjoy a soft shell and hard shell stuck together with melted cheese served with fresh veggies, choice of protein and specialty Mojo sauce for an unbelievable flavor. If you're looking to celebrate Cinco de Mayo in St. Augustine, Mojo's is sure to have what you're looking for.  
Raise a Glass at Cantina Louie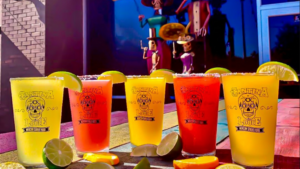 When it comes to celebrating Cinco de Mayo, margaritas are probably at the top of your list. If so, then Cantina Louie has you covered. This Tex-Mex style cantina serves up an array of flavorful margaritas from pineapple to pomegranate and even piña colada-flavored so you and your friends can raise a glass to the occasion. 
Sip on Sangria at Sangrias 
If you're looking for the perfect opportunity to enjoy Cinco de Mayo in St. Augustine, then head downtown to Sangrias Tapas and Wine Bar where the food is good and the drinks are even better. Order a pitcher of red or white sangria for the table, including Reilly's Rojo Sangria (cranberry and apple juice, Ruby Porto, apple slices, peach liquor and cinnamon) or Sangri-La (fresh pineapple, orange, and coconut juice, White Porto wine, and Chardonnay with pineapple and orange slices). Located in the heart of the city along St. George Street, Sangrias Wine and Tapas Bar has comfortable indoor and outdoor seating to enjoy live music and a view of the city streets below. 
Dinner with a View at Casa Reina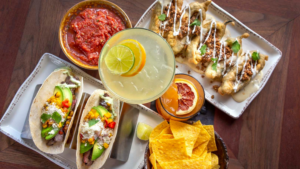 Is there anything better than enjoying a delicious meal alongside a gorgeous view? Located on along the bay at the food of the Bridge of Lions, sits Casa Reina Taqueria and Tequila. Serving up a blend of flavors inspired by Mexican, Latin American and Florida Coastal cuisine, you can enjoy a variety of traditional favorites while taking in the view of the city and Matanzas Bay. Dive into their menu ranging from street-style tacos and Mexican corn cakes to loaded enchiladas and flan. Of course, they also offer a wide range of tequila and mezcal so you can toast to the holiday. 
Rest Up 
Looking for the perfect place to stay after a day of celebrating Cinco de Mayo in St. Augustine, Florida? Head over to The Local – St. Augustine! Located on Anastasia Island, just five minutes from downtown and only a short drive to St. Augustine Beach, our renovated rooms and comfortable amenities are ready and waiting to greet you.