Skip to Content
A Romantic Getaway in St. Augustine
Did you know that St. Augustine, Florida is one of the most popular spots in the United States for engagements and destination weddings? There are many reasons why couples flock to the Ancient City to celebrate their love. Whether walking along the bayfront, taking a horse-drawn carriage through the historic downtown, or stopping at one of the romantic cafes for a cocktail, St. Augustine is one of the most romantic getaways for any couple in love.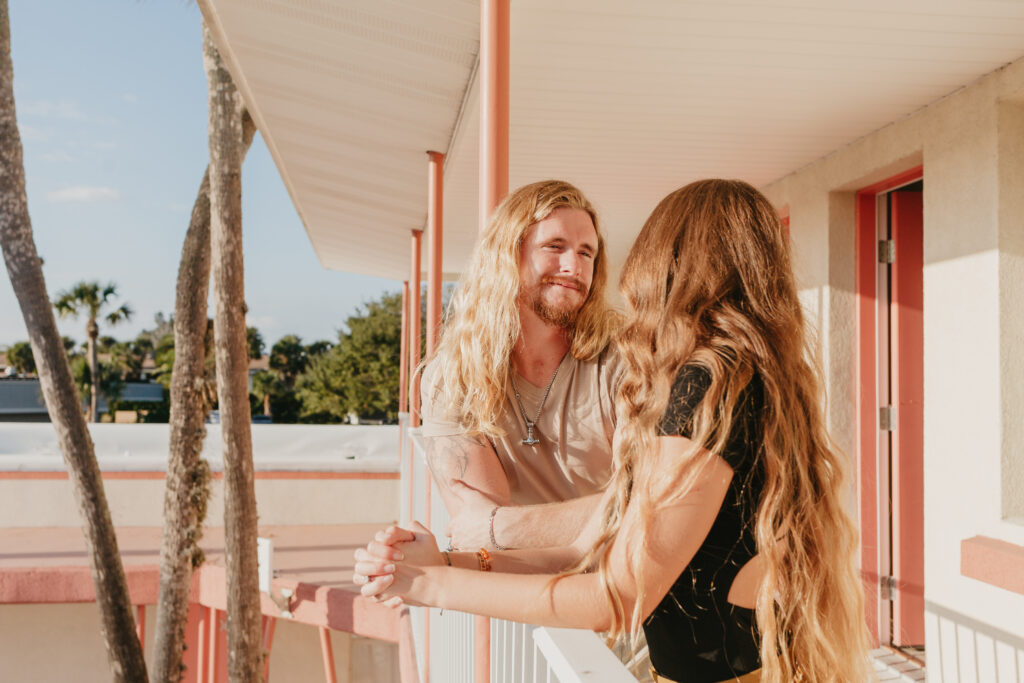 Kiss Under a Love Tree
Did you know that St. Augustine, Florida is home to several 'love trees'? Love trees are when two separate species of tree (like oak and palm, for example) grow in, on, and through each other. In fact, it's local folklore that if a couple kisses under one of these unique flora, they will share an everlasting romance. Although botanists have been unable to find scientific proof of this effect, couples worldwide can be found smooching under one of the half-dozen or so love trees around the Oldest City. What do you think? Would you kiss under a love tree?
Take a Sunset Sail
One of the best ways to see St. Augustine, Florida is by water. Surrounded by inlets, bays, rivers, marsh and ocean, the Ancient City offers dozens of experiences on the water, including a private sunset sail with St. Augustine Sailing. This two-hour sunset sail aboard a luxury yacht offers breathtaking views of St. Augustine's historic bayfront as well as landmarks like the Castillo de San Marcos, the Bridge of Lions, the Great Cross and the St. Augustine Lighthouse. Add on one of their food and/or drink offerings for a truly unique experience!
Pack a Picnic
There are plenty of places around St. Augustine, Florida, to find tasty treats to pack the perfect picnic. Head to Ancient City Brunch Bar on St. George Street to build your own 'Bruncharcuterie Board' featuring everything from Belgium waffles and French toast sticks to different types of quiche and even a curry turkey Empanada. Have the staff pack it up to-go and take it to the Old Fort (a.k.a. the Castillo de San Marcos) for a romantic picnic on the bayfront. Make sure to bring a blanket and some refreshments! Looking for something a little less labor-intensive? You can hire local vendors like The Picnic Company or A Little Serendipity to create a custom picnic and set it up at your locale.
Dinner for Two
There are dozens of romantic restaurants in St. Augustine, Florida to book a perfect dinner for two. One of our favorites is Collage. Located on Hypolita Street, this intimate dining experience features a mix of inspired global eats and a sizeable wine list focusing on using the finest and freshest ingredients possible, including fish from local waters and produce from nearby farms. Try the escargot, tender snails sautéed with mushrooms in a brandy cream sauce and served over puff pastry, and the homemade lobster ravioli in a pesto cream sauce and topped with a Maine lobster tail. Collage is reservation only, so plan ahead! Other romantic dinner spots in the Ancient City include Michael's, Marco's Piano Bar, and Sainte-George Restaurant.
Cocktails on the Bayfront
With panoramic views of the bayfront, the Tini Martini Bar at the Casablanca Inn is easily one of the most popular (and romantic) spots in St. Augustine, Florida to enjoy a waterfront cocktail. Whether you find a table on the outdoor verandah or inside at the cozy bar, choose from the extensive wine list or a classic cocktail to start your St. Augustine vacation off on the right foot. Try a Classic English Martini, Manhattan or Watermelon Tini – served up in a metal shaker with a martini glass on the side. Just beware, these drinkables pack quite a punch, so only plan to have one before heading off for a hearty dinner.
Stay Awhile 
There's no better way to top off your Romantic Getaway in St. Augustine than by spending the evening at The Local – St. Augustine. Relax and unwind after a day of treating your sweetheart to the finer things that our lovely city has to offer. Located on Anastasia Island, just minutes from downtown, our newly-renovated rooms, digital check-in and comfortable beds are ready and waiting for you.