Skip to Content
Halloween in St. Augustine
As the oldest city in America, St. Augustine, Florida is known for many things. From incredible architecture, arts and culture, delicious food and stunning beaches, the list goes on and on. However, being the nation's oldest city, means that St. Augustine is also known for its fair share of ghost stories, haunted buildings and all things spooky. So, if you're looking for a fun way to get spooked this upcoming holiday season, you're in luck! Whether you're a fan of ghost stories, haunted tours or odd shops – we have it all! Here's some of our favorite ways to celebrate spooky season in St. Augustine. 
A Ghostly Encounter Walking Tour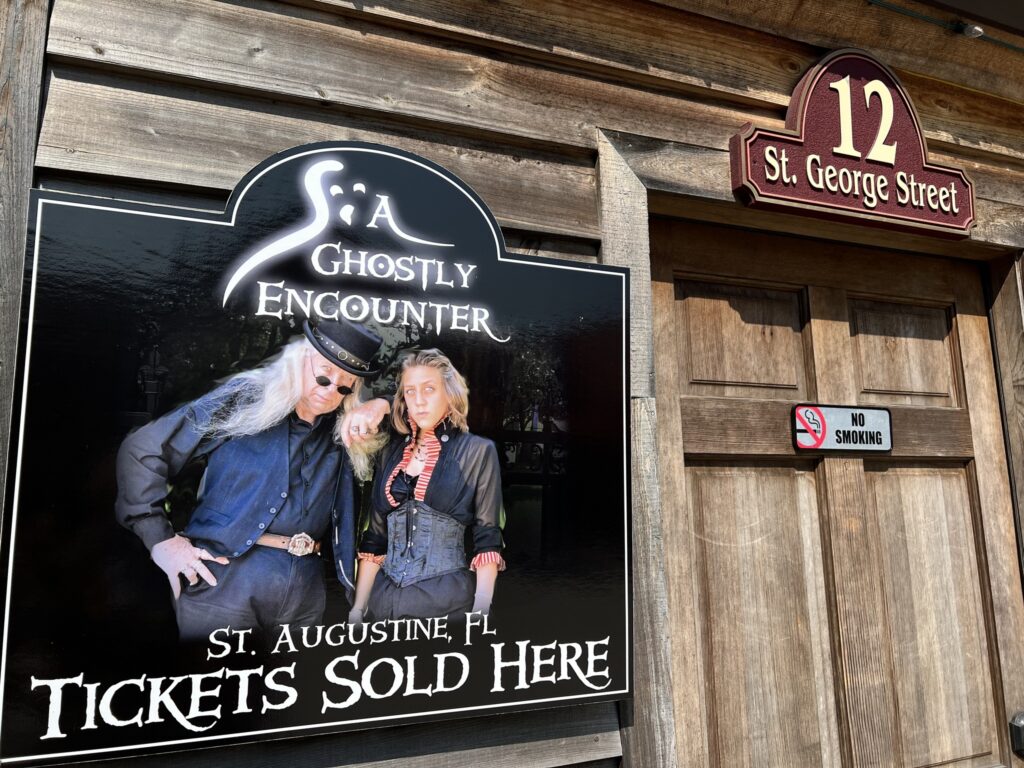 Get ready for a thrilling evening when you head off on this 90-minute ghostly encounter that takes you through St. Augustine, Florida's dark and spooky history. Walk the streets of the Ancient City and listen to the frightful stories as you learn about the history of some of St. Augustine's most famous landmarks, including The Castillo de San Marcos, The City Gate, The Tolomato and Hugenot Cemeteries and more! Fun for all ages – this tour is a must when it comes to October activities in St. Augustine, Florida.

Ghosts & Gravestones Trolley Tour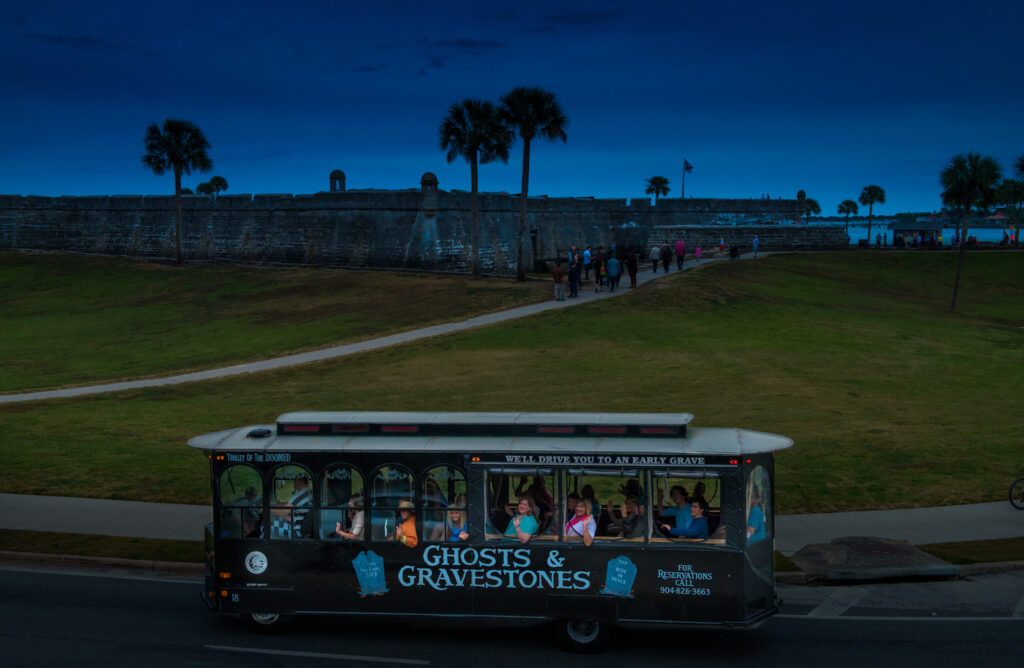 If you're not a fan of walking the streets  – don't fret! There's plenty of ways to sit back and enjoy the ride (literally) while you get scared. Climb aboard the Ghosts & Gravestones trolley tour and keep an eye out for spirits of St. Augustine, Florida's past as you visit the Tolomoto Cemetery, the historic City Gates and face your fears in an exclusive nighttime experience at the one and only Potter's Wax Museum and its Chamber of Horrors. For even more scares, be sure to add-on a visit to the Old Jail after dark and keep an eye out for ghostly encounters. 
Ghost Augustine Pub Crawl
Is there anything better than enjoying spooky season with a drink in hand? We don't think so! Enjoy the best of both worlds this October in St. Augustine, Florida when you head out on a haunted pub crawl with Ghost Augustine. Not only will you hear the tales of St. Augustine's haunted past, but you'll also get a chance to enjoy a few brews throughout the city.
Dark of the Moon Ghost Tour at St. Augustine Lighthouse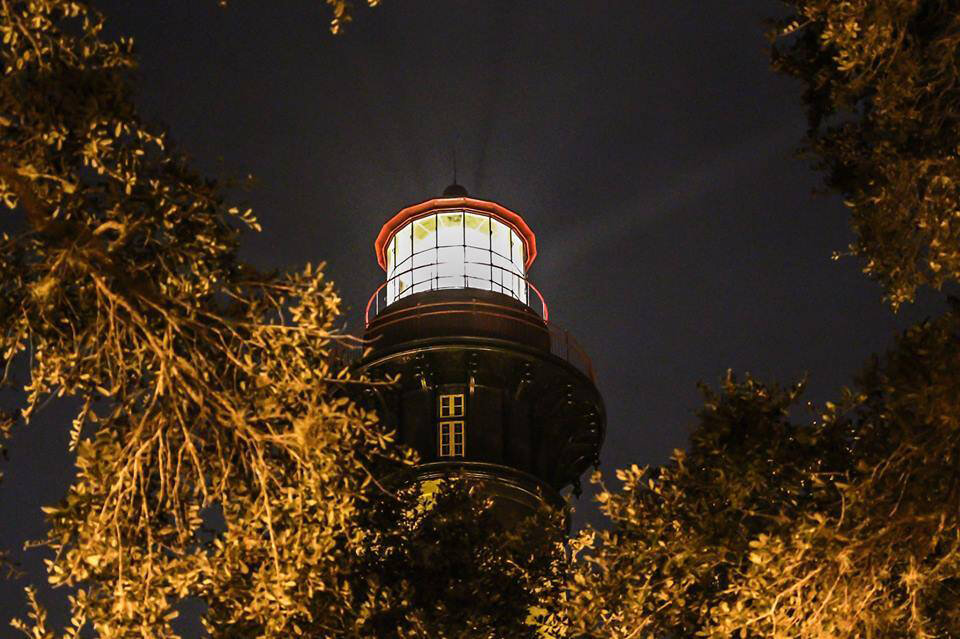 If you're looking for a truly haunted experience when you explore St. Augustine, Florida this October, then it's only fitting to visit one of the most haunted sites in the city! Head to the famous St. Augustine Lighthouse for their Dark of the Moon Ghost Tour and see why it's earned such a reputation. Your guide will walk you through the 1876 Keepers' House and the famous 1874 lighthouse tower as you listen to true tales of its haunted history. After all, what could be more exhilarating than climbing the tower at night?  
Ripley's Haunted Castle Tour 
If you're looking for a more hands-on haunted experience, then we have the perfect tour for you. Head on over to Ripley's Believe It or Not! and embark on their Haunted Castle Tour where you'll get to take part in a paranormal investigation. This 60-minute tour uses state-of-the-art ghost-hunting equipment, including infrared thermometers, laser grids, thermal imaging cameras and more to help you uncover the spirits that haunt the Ancient City. 
The Dungeon at the Oldest Wooden Schoolhouse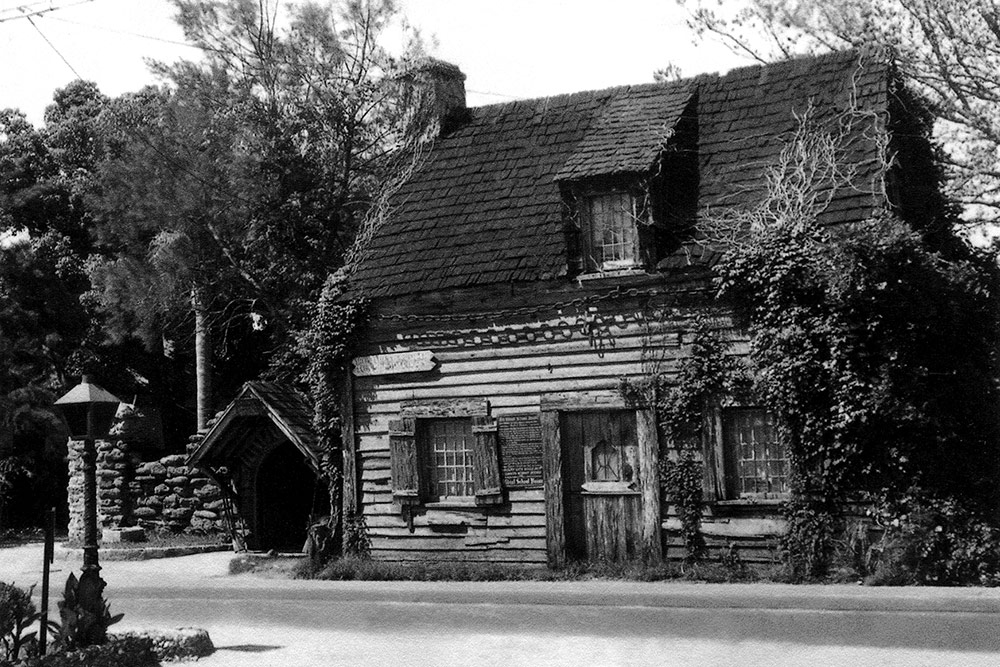 Just in case the thought of a dungeon underneath a schoolhouse isn't creepy enough… you can see it for yourself when you visit St. Augustine this October! Located in the heart of downtown St. Augustine, Florida, visitors of the Oldest Wooden Schoolhouse can see where children were sent when they misbehaved over 200 years ago (heads up, it's pretty creepy). Thankfully, this isn't common practice anymore! 
The Odd Macabre Shoppe
There's only one time of the year when it's encouraged to shop all things frightful – so, be sure to head over to the Odd Macabre Shoppe when you visit St. Augustine this October. Home to all things spooky, weird and everything in between, shopping in this store is eventful all by itself! However, for those looking to experience a bit more, the shop also hosts an array of frightful activities, including paranormal investigations, scavenger hunts, candle-making and more! 
Sleep Tight, Don't Let the Ghosts Bite! 
What better way to end your spooktacular tour of St. Augustine than with an overnight stay at The Local – St. Augustine? Just a hop, skip and a jump away from downtown and St. Augustine Beach, our renovated rooms and comfortable amenities are ready and waiting to greet you. And don't worry – there's no ghosts! (We hope).